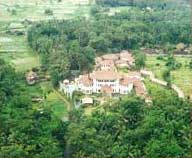 Location
The Mansion is located in the verdant foothills of Bali about 40 km from the airport, an easy and scenic drive from Kuta, Seminyak or Sanur.
The Mansion is situated in the artist community of Penestanan on the Sayan Ridge just a few minutes drive from the centre of Ubud, the island's cultural centre. Set in a strikingly attractive park-like estate, it offers outstanding hospitality and the extensive facilities expected of a luxury resort.
Accommodation
Comprised of luxurious, sophisticated, secluded – unique accommodation completed with rare and beautiful objet d'art, The Mansion is truly an exclusive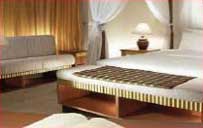 private residence cater for guests in total privacy . Staying at The Mansion will be a truly unique experience, for each suite or room is individual, original and luxurious
Deluxe Room
Located adjacent to the Spa area, these exquisite and intimate rooms are set within a peaceful courtyard leading to outdoor hot and cold plunge pools and Jacuzzis
The Villa Residences
Available with one, two or three bedrooms, The Residence Villas are located in the extensive gardens of the resort. Each villa includes a separate living and dining area, and the upper bedrooms open on to a spacious and charming balcony. Each of The Residence Villas contains fine examples of outstanding artworks, furnishings and other treasures
The Governor Suite
The Mansion's unique ambience is found to full effect in The Governor Suite. Three luxuriously appointed and richly decorated bedrooms with en-suite bathrooms include a spacious, comfortable living area
The Ambassador Suite
Two separate luxurious bedrooms, each with a stunning en-suite bathroom, share a spacious living and dining area. The Ambassador Suite is also graced with outstanding paintings and exceptional furniture
The Presidential Suite
The Presidential Suite includes a spacious reception and private dining area. Some of The Mansion's finest artworks and treasures are here for your enjoyment
Dining
The Indochine Restaurant offers the unique combination of Vietnamese and French nouvelle cuisine, an ideal location for a select dinner or gathering. Café La Terrace offers a casual menu in an airy conservatory, decorated with an impressive array of art selected from The Mansion's private collection
Spa
Experience the ultimate in massage and healing rituals at Heaven & Earth, all treatments are drawn from age old Indonesian traditions to present a comprehensive selection of spiritual wellness therapies, presented in a beautiful, soothing and uplifting spa environment.
View Details : The Mansion Resort Hotel & Spa
Contact : www.indo.com