The Bidadari Luxury Villa & Spa is settled in the fashionable of Kerobokan North of Kuta, a sanctuary of privacy. The Villa is located within 7.000 m2 of land beautifully appointed private villas with individual swimming pool just minutes from the excitement of Seminyak, Legian and Kuta. The "Bidadari" in the name of the resort derived from one of the famous people story in Bali. which telling love story of angel from heaven "Ken Sulasih" with a young man from earth "Rajapala".
Accommodation and Facilities
Comprises of 19 villas and featured 7 one bedroom villas, 11 two bedroom villas and 1 three bedroom villa, The Cleo Spa and The Yubi Restaurant. All villas is completed with private pool and other international standard of amenities to ensure the comfort during your precious holiday in Bali. Our impeccable personalize service assures that your stay the Bidadari Luxury Villas & Spa shall be memorable.
SPA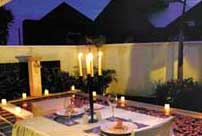 The Cleo Spa offers complete and quality spa setting to satisfy those demanding holistic and enhance your spirit and soul and also pamper your body. Each treatment room is completed with facilities to ensure complete comfort such as bath tub, shower, wash basin, and locker. The professional consultant and skillfully spa therapist to ensure satisfaction of all our guest
View Details : The Bidadari Luxury Villa
Contact : www.indo.com